On Friday night, I speedily made my way through my TiVo'd Torino Olympic Ceremonies. Most of the 3–some hour marathon was pointless and boring, but one 2 minute segment caught my eye.
It was about a quaint cafe that sits across from a church, called "Al Bicerin" . It is famous for it's drink, Bicerin (pronounced bee-chair-EEN) which it has been making to wide acclaim since 1763.
The drink is essentially, one shot of espresso, liquefied chocolate, and a little cream on top. The recipe is one of those "closely guarded secrets", but from a little digging I found this recipe which I plan to make this morning. I realize that it will probably only be as good as the chocolate you get, but I at least want to make it as correct as possible, and then worry about getting the right chocolate later.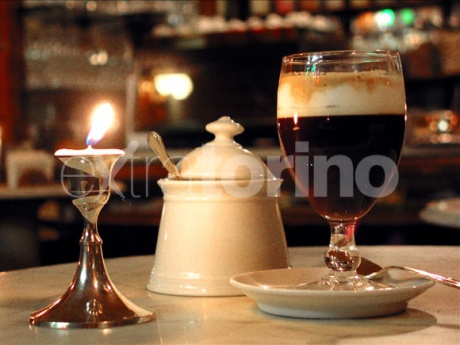 Bicerin -Two servings
It's important to use a clear glass; you need to be able to see all three layers.
Warm one cup (250 ml) whole milk in a medium-sized saucepan with 3 ounces (90 gr) of chopped bittersweet or semi-sweet chocolate. Whisk the mixture until it begins to boil, then let it boil for 1 minute, whisking constantly (the chocolate mixture will foam up a bit.)
Afterwards, remove it from the heat and set aside. Make a small pot of very strong coffee, or good Italian espresso.
Fill the bottom third of a clear, heat-proof glass with the warm chocolate mixture. Pour in some coffee or espresso. (If you want to help it create a definite layer, pour it over the back of a spoon, into the glass.)
Top with a nice swirl of sweetened, freshly-whipped cream.
Bicerin party anyone?
Update: I just tried it out and it went pretty well. Of note, I used a small saucepan, thinking it was more than enough, but when the recipe says "will foam up a bit", it will foam up like 3 times it's size. I overflowed several times. I also didn't use as much cream, didn't have the right glass, and made myself a double. Here is my effort: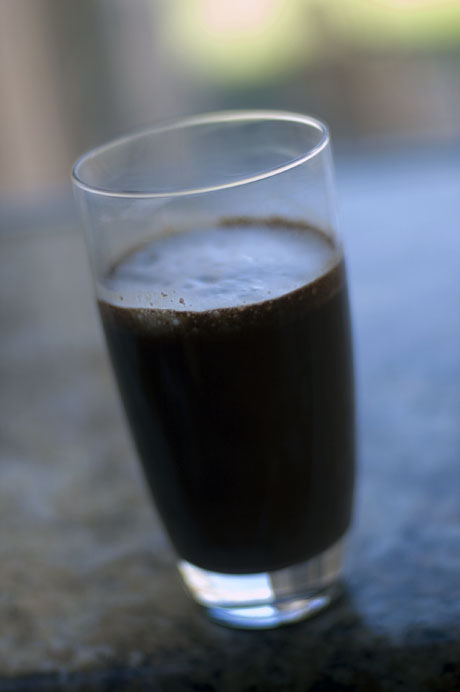 It's good, real good. But very, very chocolatey. My wife's family are chocolate hounds, so I think this will finally make me popular amongst them :).