A neighbor was burglarized a few days ago, and although the idea of yet another monthly charge was upsetting to me, I decided to check out what options were available.  I called ADT, Brinks, Metro Guardian, Protection One and Protect America.
I went into this knowing nothing other than a few of the big names, and was very surprised on what I found.
From very early on, most companies wanted to sell me a wireless package.  And since that sounded like the best solution, all my reviews are for each companies wireless package.
Each place I called offered a near identical package:
Keypad
Keyring FOB
3 Sensors, used on doors or windows
1 Motion sensor
Where each differs is their up-front cost, the monthly monitoring charge, the length of contract you must sign, and the per item charge for add-ons.
At the end I will discuss what I chose and how much money I landed out saving – and trust me, it will surprise you.
ADT
ADT is the most expensive system and they are not ashamed of it.  Talking to ADT was great.  The rep on the phone was paid on commission and sounded like someone I could trust and told it to me straight.  His viewpoint was that yes they were more expensive, but that you get what you pay for, and their products were better.
ADT does not outsource their monitoring like most other do.  They have 5 different monitoring centers around the US, and boast that they have the quickest response times, and smallest amount of false alarms because of their great monitoring and products.
Their "wireless" system has a fully wired brain that could sit in your closet, with all the components then being wireless.  They use an Ademco/Honeywell wireless system.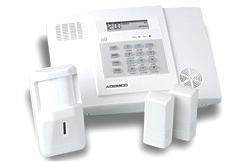 ADT was also the only one of the group that admitted on this post that their Motion Detectors  don't work too well with pets, no matter what anyone says.  The false alarms, they found, were unacceptably high.
Total Price: $894 up-front, $35.99 per month for 2 years.
Add-ons:
Motion: $165
Glass Break Sensor: $150
Door/Window Sensor: $70
Brinks
Brinks will absolutely not quote any prices about their wireless product over the phone.  They will only do so by setting an appointment.  So I can only assume that their wireless product is more expensive.
The woman I spoke to made me feel I was talking to a McDonalds drive through attendant.  She failed at being able to directly answer my questions, and too often would go on long dialogues of reading off a script.
I was told from another source that Brinks did not offer a fully wireless system, so I asked her "Is your wireless FULLY wireless, or are the brains wired in?".  She answered, "We offer a Wireless system that gives you…" and she would continue spouting the glories of her system, all not answering my very specific system.  I asked her 3 seperate times, varying my question, all getting pretty much the same, rote answer.
Total Price:  $99 up-front, $29.99 per month for 3 years (for wired product)
Add-ons:
Door/Window Sensor: $70
Didn't bother asking about other products
Protection One
Protection One would not talk about anything over the phone. I met a nice enough guy at my house today and we spoke about their offer.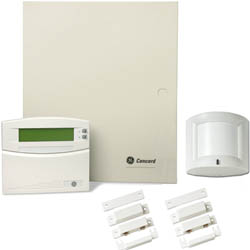 Protection One sells both the Ademco/Honeywell Wireless Security System and the GE Concord 4; the latter is what they showed me in my house.
The GE Concord 4 is very similar to the GE Simon 3 that Protect America offers, with the major differences being the LCD on the keypad, and the brains wired into your house in a different location.
This is both good and bad.  Having a completely wireless solution like the Simon 3 is easier, but if someone were just rip it off the wall before it had a chance to call the police, it would fail to work.  So having the brains somewhere else protects you against that.
This problem is also easily fixed with the Simon 3 by just putting the keypad in a more central location which would give you enough time before a burglar could find it.
In order to get the Concord 4 through Protection One, you are forced into buying the GSM Module that allows the system to call your monitoring service over their cellular network.  This adds significantly to the price of the quote, and adds $10 more per month for the monitoring.  Although this is a great option, in every other product I can choose to add this myself; I don't like being forced into it.  Yes, my phone line could get cut by a burglar, but since the majority of burglaries are done by amateur kids, I don't think it is necessary.
Other than that, the Concord does everything the Simon 3 does:
X-10 Compatible
Ability to monitor remotely through web
Can arm and disarm by calling the system
Can use a Key FOB to arm and disarm system
Extremely customizable
Protection One's pricing almost made me chuckle.  The same door and window contacts I can get here for $18, sell for $81.
They also do their own monitoring.
Total Price: $398, $42.95 per month for 3 years
Add-ons:
Motion: $139
Glass Break Sensor: $140
Door/Window Sensor: $81
Smoke: $130
Protect America
The horribleness that was Protect America cannot be written succinctly enough in a couple paragraphs.  I was lied to many times, the sales woman was pushy but was supposedly, "not on commission".
You can view the full scathing review here.
Protect America does offer probably the only fully wireless alarm system, the GE Simon 3.  With this system you get many features you just don't find in basic packages with the other companies.  It is so customizable, I will devote another article to just this system.  It is a VERY cool system.
Unfortunately, Protect America should be treated like a scary person in an alley.  Just turn around and walk away.
Price:  FREE, $34.95 per month for 2 years
Their add-on's are much cheaper than everyone elses, but I didn't bother to break it down.  For example, if I were to get 10 Window/Door sensors and 2 motion detectors, it would be only $300 up-front.
Metro Guardian
Despite a storm taking out their computers, the guy helping me was very nice and as professional as ADT.  I trusted what he said, although everything he said I had heard so many times prior, "we also give you a backup battery, 24 hour monitoring…", yadda, yadda.  It is amazing how each person tells me the same things and make it sound how they are the ONLY ones that offer it.
All in all, I really liked how I was treated with them, and being a smaller, independant company, I like that they try to earn my business without gauging me with ADT prices.
Metro's wireless system is made by Honeywell.
Total Price: $49, $32.95 per month for 3 years
Add-ons:
Motion: $99
Glass Break Sensor: $99
Door/Window Sensor: $65
Additional Keypad: $125
Outdoor siren: $125
What I decided
After I spoke to Protect America and found out they use the Simon 3, I googled and found a company that not only sold it directly, but pretty much every wireless system I was offered from these companies.  In fact, I found several companies that sold them, but after speaking to SafeMart, I decided to purchase through them.  They have been so nice through each of my 4 phone calls, and I have spoken to a different person 3 of the 4 times.  I also contacted Home Security Store, but the guy seemed more annoyed with me than helpful.
Safemart also recommended the Simon 3 over every other system because of the ease of use and installation.
The other great part of using Safemart, is that they have $9 monitoring through Criticom, who even Metro Guardian uses and charges you $32.95 for.
Additional accessories are also much, much cheaper, while others aren't even possible to get with most of the companies I spoke to:
Sensor: $18 – $30 (depending on quantity and type)
Motion: $59 – $100 (depending on the type)
Keychain: $29 – $38
X-10 tranformer: $15
Outdoor sensor: $125 – $145
Smoke: $84.50
Glass break: $69 – $85
Carbon Monoxide: $115
Water sensor: $53
Freeze sensor: $55
So if I price a basic package like I was offered through each company, it will cost me about $248 plus whatever shipping is.  And when you then factor in the $9 no contract monitoring, it adds up to a big savings.  For three years, this would cost me about $600!!
Now, compare this $600 with every other quote I got (over 3 years):
ADT: $2,189.64
Protection One: $1,658 (without the Cell add-on)
Protect America: $1,258
Metro Guardian: $1,236
Brinks: $1,178
I can also add Smoke, fire, flood, and carbon monoxide monitoring for free, where as that would cost another $3 – $10 per month with each company.
Also worth noting is how much would be saved when you factor in all the additional sensors you actually will need, and the fact that you will probably have the system running for a long, long time.  I would much rather be paying $108 per year, than up to $516, that's for sure!
In Conclusion
I don't expect everyone to want to install the system themselves.  And if you are that type of person who would rather pay more to not have to deal with it, then definately go with the company you feel most comfortable with (as long as it isn't Protect America!).  You will be paying almost 4 times more per year for the benefit, but that is your choice.
Me, I am very happy with my choice, and cannot wait to get my Simon 3 installed and customized.